Food lovers are in for a mouth-watering organic experience at Coolanowle Country House. We are passionate about food and we are 100% committed to prioritizing the core indigenous ingredients of Irish cuisine and promoting local and artisan food producers. From afternoon tea through to evening meals and breakfast, homemade and organic food are the order of the day.
Upon afternoon arrival you can enjoy Bernadines delicious homemade scones with tea/ coffee. She will even give you her recipe if you ask her nicely!
Be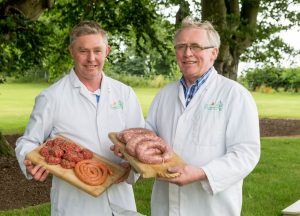 warned however Bernadines fantastic scones more often than not leave people wanting more of her culinary skills and subsequently treating themselves to experience our fine dining four course organic evening meal. Just have a look at our menus above and read the trip advisor reviews if you need help to make your mind up! Organic evening meals are our specialty with a wide variety of organic food produced on the farm being served, including our organic beef, lamb, pork, bacon and chicken from Coolanowle Organics. A good bottle of wine to accompany your meal will ensure this is a culinary experience to be remembered!
Next morning make sure to experience Georgina Campbells Highly Commended  breakfast, with Organic Apple Juice from our orchard, fresh squeezed Organge Juice and Organic sausages, rashers, eggs and our Great Taste Award winning black and white puddings all from Coolanowle Organics. This breakfast will be sure to tantalise your taste buds and keep you fueled until well past lunchtime!
Please just let us know when booking if you have any special dietary requirements or allergen issues. You're sure to find something to suit all tastes and dietary requirements on our expansive breakfast menu.  For example we can make sure to have our homemade gluten free bread and gluten free sausages available if you are Coeliac/ gluten intolerant or lactose free milk etc for lactose intolerant. There are also a number of vegetarian options available on the breakfast menu. Any queries re: special dietary requirements or if you require any allergen information please inform a member of staff.